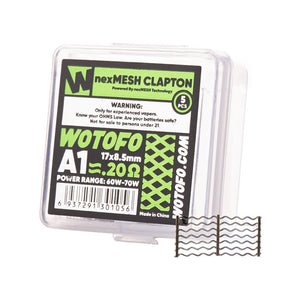 Wotofo
Wotofo NexMESH Clapton Mesh
Regular price
R 150.00
R 0.00
Wotofo proposes sheets in Mesh of excellent quality for the Profile RDTA and Profile 1.5 reconstructable atomisers. Delivered in a small box, the 5 Mesh sheets are made in Kanthal A1 and Ni80. It benefits with a structured form in waves made to increase the volume of vapor and for an excellent rendering in flavours.
The nexMesh Clapton has a value of 0.2 ohm and is made by Wotofo.
Only Works with other Mesh applications if 1 line of Clapton is cut off!!!
---