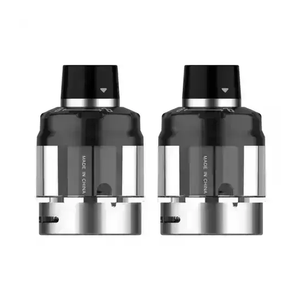 Vaporesso
Vaporesso Swag PX80 Empty Replacement Pod
Regular price
R 110.00
R 0.00
The Vaporesso Swag PX80 Replacement Pod Cartridge is designed for Vaporesso Swag PX80 Pod Mod Kit, with quad anti-leakage mechanisms and a bottom airflow control system. Swag PX80 Pod can hold 4ml of your favorite e-liquid, adopt a bottom filling system. The top of the cartridge has a replaceable 510 drip tip. Two incredible features of this pod are its e-liquid self-circulation system for the vape juice and the triple-silicone coil structure. Both of these help create a leak-proof seal. You no longer have to worry about losing delicious vape juice from an unexpected leak. Swag PX80 Pod is compatible with various types of coils on the GTX coil platform. The GTX coils and the SWAG PX80 work seamlessly to deliver ultra-smooth flavor in an instant while vaping. Easy replacement of coil: aligning the mark & pressing the drip tip to popup the coil. There is a dual-slot air-inlet ring at the bottom of the Pod, and the airflow can be adjusted by rotating the Pod to meet direct-to-lung or mouth-to-lung vaping.
Main Features:
1. Smooth adjustable rotating airflow
2. Anti-leaking system, e-liquid self-circulating system
3. Triple-silicon structure
4. Compatible with GTX Coils
5. Replacing coil without emptying pod
6. Quad leakage protection
Specifications:
Brand: Vaporesso
Product Name: Swag PX80 Pod Cartridge
Capacity: 4ml
Coil Resistance:GTX 0.2ohm Mesh Coil (45-60W), GTX 0.3ohm Mesh Coil (32-45W)
Coil Compatible: GTX Coils
Fit for: Vaporesso Swag PX80 Kit

Price is Per Pod!!!
---