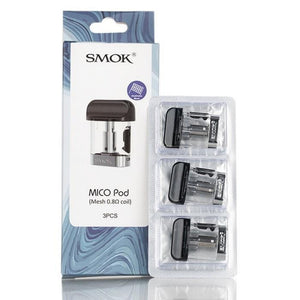 Smok
Smok Mico Replacement Pod
Regular price
R 60.00
R 0.00
The SMOK MICO Replacement Pod Cartridges features an ergonomically design mouthpiece with a 1.7mL refillable juice capacity, cleverly designed with simple side-fill mechanism to accommodate a wide range of nicotine salts. The SMOK Vape MICO atomizer core is integrated into the pod, utilizing a special cotton that is enclosed to provide optimal vapor production and flavor enhancement. It is offered in three options: 0.8ohm MICO Mesh Pod, 1.0ohm MICO Regular Pod, and 1.4ohm MICO Ceramic Pod...

Main Features:

Fillable Pod System - Replaceable Cartridge
1.7mL Juice Capacity - Side Fill Slot
0.8ohm Mesh Coils
1.0ohm Regular Coils
1.4ohm Ceramic Coils
Air-Driven Pod System
Ergonomically Curved Mouthpiece
Propreitary Magnetized Gold-Plated Connection....
Price is Per Pod.
---