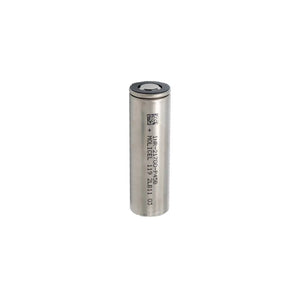 Molicel
Molicel P45B 21700 4500MAH 45A Battery
Regular price
R 280.00
R 0.00
Description
The Molicel 21700 P45B 4500mAh 45A Battery is a powerful and reliable battery that packs a punch. With a high discharge current and exceptional cycle life, this battery is perfect for those looking for a long-lasting and high-performing option.
Designed for ultra-high power, this battery operates smoothly even in low temperatures down to -40°C. Its high thermal stability and low impedance ensure stable and efficient performance, while the fast charge capability allows for quick and convenient recharging.
Measuring approximately 21.55mm x 70.15mm (Max), this 21700-sized battery is compact yet powerful. It features a flat top positive terminal and a nominal voltage of 3.6V, with a maximum voltage of 4.2V and a discharge cut-off voltage of 2.5V.
This rechargeable battery weighs approximately 70g (Max) and is commonly known as the INR-21700-P45B.
It is important to note that lithium-ion batteries require careful handling, and users should have a good understanding of their characteristics and safety precautions before purchase. Always charge them in a fire-proof surface and never leave them unattended during charging.
Molicel Ultra-High Power Cell Series
High Discharge current
Exceptional cycle life
Low temperature operation down to -40°C
High thermal stability, high reliability
Very low impedance
Fast Charge
---