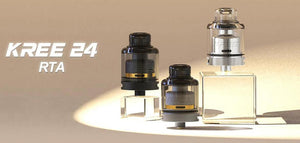 Gas Mods
Gas Mods Kree 24 RTA
Regular price
R 620.00
R 0.00
After the success of the 22 mm version the Kree returns in an over-boosted version!
The deck 
The Kree 24 is equipped with a single coil deck with opposite screws, unlike the 22 mm version, it has more space to accommodate all types of wires. The air inlet located under the resistance is fully customizable using inserts. Oriented DL and RDL you have the choice between 4 prints 3 mm, 3.5 mm, 4 mm and finally the most aerial the 4.5mm.
Always so aesthetic
The Kree 24 is tiny, from the top of its 35 mm in its version out of the box. Its standard 3.5 ml tank can be filled from above. For those who like larger capacities, Gas Mod provides an extension and another tank to benefit from 2ml more, making the Kree capable of carrying 5.5ml of e-liquid!
It is filled from the top using its proprietary drip tip that you just need to unscrew to access the tank. If the original drip tip does not suit you, Gas Mods supplied with the Kree an 510 adapter so you can use your favorite tip.
Package content
1 x Kree RTA
4 x Airflow inserts
1 x bag of spare
1 x drip tip
1 x tank extension
1 x 5.5ml tank
1 x 510 adapter
---