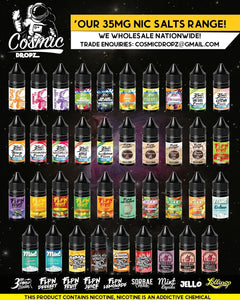 Cosmic Dropz
Cosmic Dropz 35mg Nic Salt Flavours
Regular price
R 200.00
R 0.00
Lemon Meringue:
Creamy Lemon Filling in a Buttery Crust Topped with Fluffy Sweet Meringue
Coconut Cake: 
Light & Fluffy Vanilla Sponge Cake Topped with Sweet Shavings of Coconut
Banana Pudding:
A crazy burst of intense flavour that will make you go Bananas!
Strawberry Pudding:
A sweet strawberry syrup drizzled over a delicious warm pudding.
Creme Caramel Pudding:
A Decadent silky smooth gourmet crème caramel pudding in a bottle.

Mango Freezo: 
Sweet and succulent mangoes blended with ice
Galactic Grape Ice:
This juice will take you back to when you were a kid again chewing chappies.

A sour Grape Bubblegum on Ice.
Passion Cooler:
Passion Fruit and ice
Sorbae Peach:
Sweet juicy peaches  pureed and frozen
Sweet & Sour:
Mango and orange blended with ice and just the right amount of pineapple giving your taste buds a refreshing sweet and sour vape!
Apple Strawberry:
The Juiciest, sweetest Strawberries combined with a blend of apples and ice...
30ml Chubby Gorilla Bottles
Nicotine Strength: 35mg
Nic Salt Liquid! Only for NicSalts/MTL/POD Devices only!!!
---